What is Data Abstract?
In todays connected world, where customers have multiple devices across multiple platforms, it has become more important than ever to have a users data available to them where-ever they are in the world, regardless of the platform they happen to be using. They want to be able to interact with their data where-ever they are, be it on a mobile phone sitting at an Airport or working on a laptop at home. They want to use your application on their favorite devices, and they expect it work the same regardless of the device its on.
With that in mind, you have a lot of things to start considering when designing your app:
How you will handle communication between the tiers & platforms, and are you going to take a synchronous or asynchronous approach (or indeed both)?
How you will handle security?
Which database will you use, and how general you have to design so that you can change databases should your needs change?
On what platform you will stage your server tier?
Where will your main app logic reside; do you put it all on the client side, all in the middle tier, or a mixture of both?
Suddenly your exciting idea seems much more complicated and gets a bit lost in all of the mechanics you'll need to add to make it possible.
The Data Abstract framework helps you solve those and other problems that you haven't even considered yet. Data Abstract makes it easy to create multi-teir, database driven applications, allowing you spend more time focusing on the more important details of what makes your app so special rather than having to worry about communications protocols, data access or the database backend.
What exactly is Data Abstract?
In short, Data Abstract is a multi-platform framework that takes a multi-tier approach to data access. It is built a-top of Remoting SDK which we will explore more in a moment. The goal of the Data Abstract framework is to remove the development steps or headaches that you would encounter if you were creating a multi-tier application from scratch.
Looking at the list above, here are some of the ways that using Data Abstract would help you:
Looking a little deeper
As mentioned above, Data Abstract is built on top of Remoting SDK communication framework. Indeed a Data Abstract server application is a Remoting SDK based server with database connection management, an efficient data exchange protocol and declaratively (i.e not in the program code) defined mapping between the database schema and the data structure exposed to the client applications. On the client side, Data Abstract provides components to simplify data access so there is no need to manually compose calls to the server or work directly with SQL.
Lets have a look at how this looks like: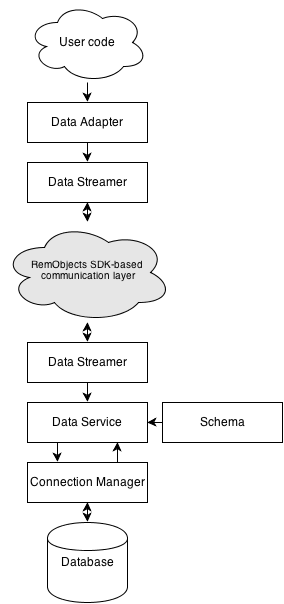 As you can see the core Data Abstract components are:
See Also
Notes
---
Note that Schema data table mappings are not necessarily a straight 1-to-1 mapping to the database tables. For example, it is possible to expose the result of an SQL SELECT statement as a Schema table and to handle any data updates applied to this Schema table using stored procedures. This approach allows data to be filtered on data access, do additional data integrity checks on data updates, etc., in a fashion that is completely transparent to the client application. Also, some database tables are not suited to be exposed as Schema tables. ↩